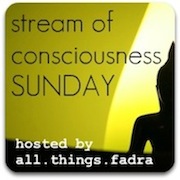 Last night I watched my son's face beamed as he was the center of attention again.
This time it was my uncles from Oregon who had come to visit my grandmother for her birthday. He circled the room, choosing people to bounce on their knee, squealing with glee as the hops-a-bunny HEE ho hummed and he was bounced into the air.
In everyone's faces was joy, love, and happiness.
Everytime he visits a relative, I see the perma-smile leap onto both their faces and his, and I am so proud. He revels in being the center of his small world and loves it.
He is the only small child in my family- the next is in his mid-20′s and his uncle.
He plays the role well. He instantly accepts, trusts, loves, grab's someone's hand to drag them to make coffee or play with his train, crawls into their lap for one more turn.
He is a blessing to some- his Nana, who has her bad days and even when she's tired and in pain ends up helping him play with his toys or performing a concert on the piano. With family that he doesn't see often he runs to them with glee and gives hugs, asks them to play. With the ones who are going through harder times he is a warm snuggle and a source of pride.
When they are slow, he holds their hand. When they are quick, he runs with them. When they sit, he snuggles.
This all sounds like the super-proud parent.
I totally am.
 But anyone who has seen the room full of love knows what I see, and loves it as much as I do has seen what a small child can do for a family. What big blue eyes can do to get a cookie from 'Nana' as she remembers smaller hands clutching special treats, to those small hands helping craft, giving an opportunity to brag to smiling strangers, to the warm heart that is in the center of it all.