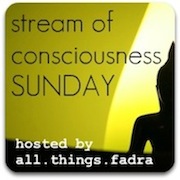 it's one of the rare southern California days where it's gray- a smooth wash of silver across the sky.
It's days like this where I want to snuggle up under a blanket with some hot chocolate or tea and stitch, stitch away.
I was taught to crochet my by grandma's aunt, who crocheted everything.
She came to visit when I was small and to her horror saw that none of my Barbies came with underwear, even though Ken had plastic briefs on.
Several stitches later, I had several pairs of crocheted thread underwear for my Barbies.
I always crave craftyness, Want a home for it and time to do it.
In the extra room is where it will all happen, slowly.
The 'craft room' and 'office are one, the smallest bedroom in our house, with a great empty closet and a large north-facing window bringing light and an, um, inspirational view of the neighbor's roof.
And grey skies today, perfect for snuggling on the couch, sipping a warm drink and weaving loop after loop.
Something I've been craving to do, my creative energies focused on writing and pinning on Pinterest.
Things I want to make, things I will make.
Things I am making.
I want to make my own clothes, crochet little hats to hide unwashed hair.
I want to make toys for my son, bright scraps of color to fill the voids in his plastic-filled playroom.
An outward-reaching spiral is a symbol of creating in Wiccan beliefs and in other religions and traditions.
Every stitch I make, every thing I do creates the outward spiral of my life.
I want to make things, surround myself by them, reach out with them farther and farther.
I am an outward spiral.
PS the hat is being made out of Bernat Mosaic, using the same patters as April Draven's rainbow hat on my Things to make, Things to do board on Pinterest.
You should check my board out