My orchid bloomed today. It was the same sad thing that the last cople of years ago barely held on to two leaves.
It wasn't happy, the same as I still wasn't happy.
My son was a cesearean delivery, which if you've read my blog for a while you've read about before.
It held me back.
it held me back from working to get a body I was proud of, since I was scared I would do something and I would just rip apart inside.
It held me back from enjoying stories of other births, either reliving my own delivery in their words or finding jealousy and pain.
I couldn't watch anything like 'A Baby Story' for two years without crying regardless of the circumsances (I still chose not to though, that show seems to be for first-timers anyway).
A couple months ago I started breaching the subject of births after a cesarean delivery slowly with friends, started reading about them again in blogs.
I wanted a successful delivery. In my mind that was a regular delivery, the kind glorified in movies and all of that pushing I practiced for and never did.
I talked about the fear of another 'failure' how badly I would be let down if I VBAC didn't work, and decided not to try it after I heard a friend's reaction to an unsuccessful VBAC delivery and a second cesarean delivery.
I read @KSluiter's delivery and decided I wanted that.
it changed my mind on what a successful delivery could be.
Not a vaginal one, but a happy one.
I wanted to be happy instead of alone, on drugs, wired up and lonely at night.
I didn't want to be afraid of my body, and I didn't again want to be sitting up crying as I remembered the cold hospital room, all of the happy moments just pictures on a camera.
So I decided I would be fine with another cesarean, and soon after I noticed a little stem on my orchid.
The one that was one of my sources of joy in the hospital, lovingly delivered from family out of the country, in my favorite shades of pink and yellow.
Today it bloomed, and I know I willl be successful if I have another child.
I would be happy just holding another child in my arms, regardless of how it came into the world.
My happiness would be both the cause and result of my successful delivery.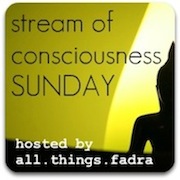 Ok, my five minutes are up, but I wanted to add more.
Here is the post where Katie from Sluiter Nation talked about having a planned cesarean, and reading that something just kind of clicked. Here is the adorable results.
April is Cesarean Awareness Month, although I wear my burgundy ribbon over my heart year round.
If you had a cesarean section please read Scars for Love and consider adding your own story.
And regardless of your delivery consider reading the Defining Moments series on The Mom Pledge.