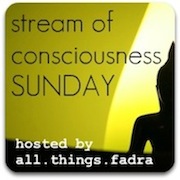 Today I'm actually trying to do the prompt Fadra offered…
Today's (Optional) Writing Prompt: What is going home like for you? Do you still live in your same hometown? What kind of memories do you have associated with the place you grew up?
I live three blocks from where I grew up.  Like, where I grew up, moved into the house next door after my grandmother who lived there died, got marired and continued living next to my parents.
I lived with or next door to my parents for almost 32 years.
My younger cousin moved away to oregon with her family when I was in high school. My uncle soon followed by way of San Fransisco and my brother went to college is San Diego and will never come back.
My little town has changed a lot since I small, and it;s hard to see it from the eyes of someone who wasn't raised like I was, the seventh generation to live in the area consecutively.
It's true- a hall in our local county museum is named after those relatives.
So I was raised with a healthy knowledge of my town- stories about the lady who started the etiquette classes I went though in high school, as family tradition.
I know where the biggest business in Redlands started- because my dad was one of it's first employees.
I know what the older buildings looked like before, what housed them, who ran them and occasionally I still run into those people and struggle to place them as my grandmother or parents greet them.
I wish I could run off and start a new life someonewhere else, yet I am comfortable with this one and feel obligated as well.
In the tradition of my parents, we are the family that stays close to the older generation- my parents and grandma for my side, and we with the only grandchild. My husband's side we are the only children on the west coast that associate with them (besides friends 'adopted' as children).
Have you stayed in your hometown or did you move away?