Fadra announced her last Stream of Consciousness post today.
Of course, I have to go out big so I'm not timing this today. I even decided to write on topic, which in the past I have not always done.
Thanks, girl, for hosting this.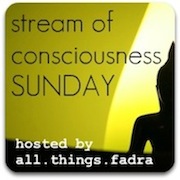 It seems in my life I am constantly reinventing myself.
Every life change means new friends, new focus, new obsessions.
For me, it has not always been a conscious choice.
Pregnancy was a forging ahead into new waters, leaving many of my friends behind. Some quickly caught up, some stayed behind.
As I changed, the ones who did not follow my path feel so far behind we lost touch.
With every life change I have found new friends and it seemes every time I am a slightly different person.
In one season of my life I was flirtatious, athletic, brave and radiant.
Another I was lost and fumbling around in a haze.
The hardest part for me is that first step, wether or not it happens intentionally or otherwise.
The part where I am going in a slightly different direction, the compass shifting with my focus.
And with it, gone is the view I had before.
As someone who is a little shy it's hard to change my life completely every few years. The older I get, the less familiarity I have. Friends don't know my back history. I lost the connections I had before and Each step makes the road seem a little more uphill.
I truly believe that you don'y finish growing up until you die, but it is sure easier changing so quickly when you are young. When you are older, the changes come slower, takes longer to accept them and it's harder to start recognizing your surroundings.
The polarity of my life is intriguing at times. I live in the same town, nay, the same neighborhood I grew up in.
The same town where all of my family grew up. The same restaraunts, the same stores.
The same stories.
But even then it seems that friends, work, passions have all kept shifting all of my life.
So I walk the same streets, but think of different people. See the same shops, choose different ones to walk into.
So with that, reinventing onesself, is not just creating a new identity but instead a new heading in life. The past is still the same, the history there, but someof the topography may, and definitely will, be different.